The X-Finder 3 meter, compared to previous models, is distinguished by:
2GB RAM memory (previous 1GB models),
800 MHz processor (previous 400 MHz models),
larger 6.3 Ah battery (previous 5 Ah models).
The meter has a large 7-inch color display that allows you to view the searched channels , display a graph for the Spectrum and preview the image of the connected camera. Connecting the camera is possible thanks to the Video IN connector ( BNC socket).
An additional improvement are the buttons assigned to a specific measurement mode, which allows you to quickly switch between them:
S button - DVB-S2 measurement,
T button - DVB-T / T2 measurement,
C button - DVB-C measurement.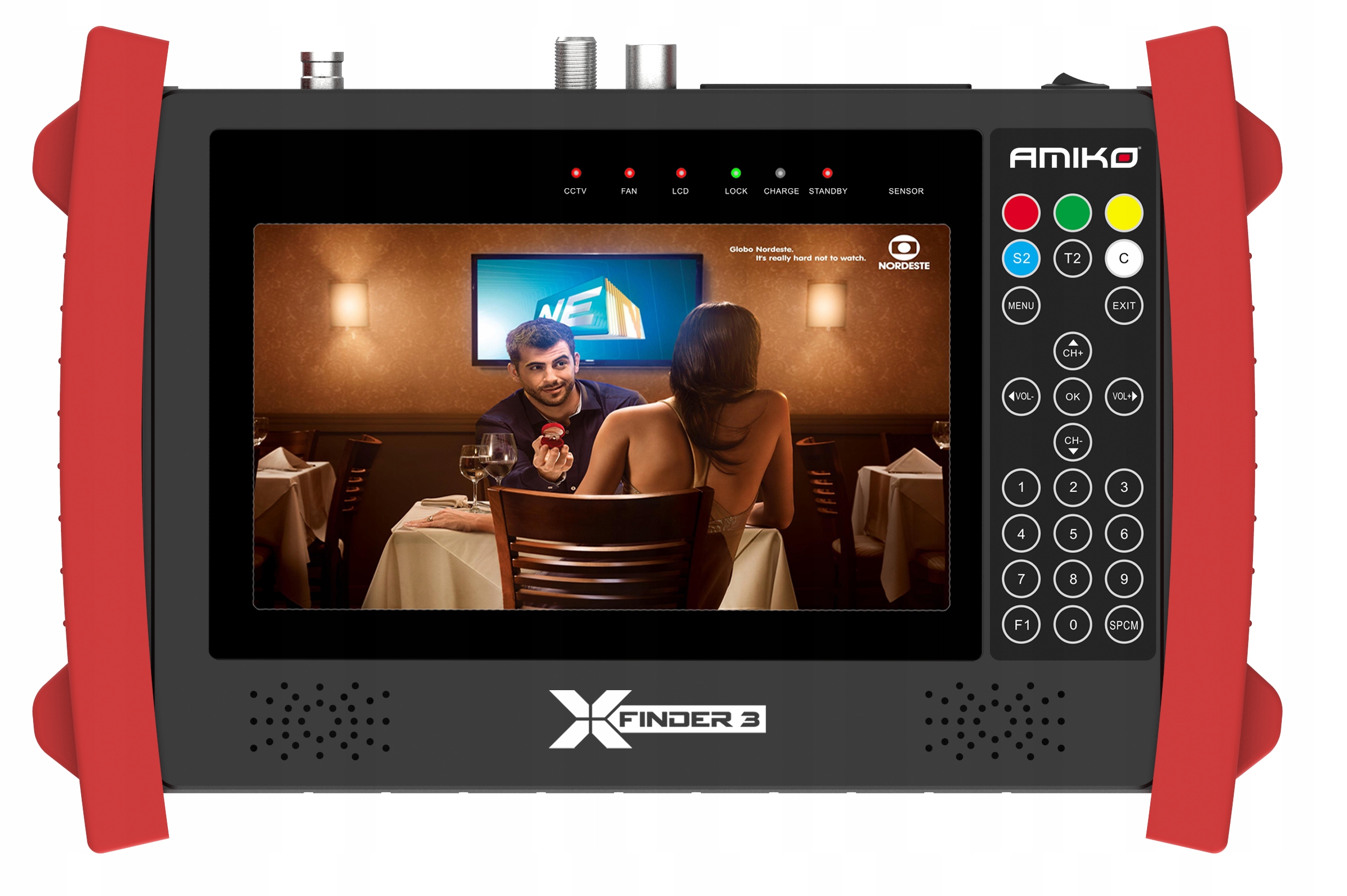 Main features:
* Satellite, T2 / T Measurement of terrestrial and cable signals
* Full function of portable set-top box
* 7 "color display
* One Conax embedded card reader
* One common CI interface slot
* BNC for analog camera input
* Support for blind satellite TV
* Spectrum analyzer
* Calculation of the angle of satellite dishes
* Constellation measurement
* Calculation and display of the dynamic error rate
* High speed USB 2.0 connection
* Media playback (MP3, MP4, MKV, AVI, MPG etc.)
* Ethernet connection * USB WiFi support (Ralink RT5370 chipset)
* Full HD (1080p) video output via HDMI
* DC 12V output connection
* Unicable and DiSEqC 1.0, 1.1, 1.2 and USALS support
* Remote control included
* Car charger included
* Two handles for use by both left-handed and right-handed people
* Built-in kickstand
* Easy database management and USB upload
* Easy software upgrades via USB and Internet
Satellite tuner:
- Tuner type: DVB-S / DVB-S2
- Input connector: F-type female connector
- Frequency range: 950 MHz - 2150 MHz
- Signal level: -65 to -25 dBm
- LNB power and polarization: vertical: + 13V; Levels: + 18V; Current: max. 300 mA; Overcharge protection
- 22KHz Tone: 22 ± 1KHz
- DiSEqC control: Amplitude: 0.6 ± 0.02V; Version 1.0, 1.1, 1.2, USALS
- Demodulation: QPSK, 8PSK
- Input signal rate: 2-45 Mb / s, convection code rate
- FEC: 1/2, 2/3, 3/4, 5/6, 7/8, 1/4, 1/3, 2/5, 3/5, 4/5, 8/9, 9/10
Terrestrial tuner:
- Tuner type: DVB-T / DVB-T2
- Input connector: IEC type female connector
- Signal level: Compliant with Nordig standard, Compliant with DBOOK
- FEC: DVB-T: Viterbi + Reed Solomon 1/2, 2/3, 3/4, 5/6, 7/8; DVB-T2: LPDC + BCH 1/2, 3/5, 2/3, 3/4, 5/6
- Frequency range: 47-862 MHz - Demodulation: QPSK, 16QAM, 64QAM, 256QAM (both rotated and non-rotating)
- Protective range: 1/4, 19/256, 1/8, 19/128, 1/16, 1/32, 1/128 - FFT mode: 1k, 2k, 4k, 8k, 16k, 32k normal and extended
- Channel width: 6/7 / 8MHz
- Antenna output power: 5V 50mA max
- Demodulation: COFDM 2K / 8K
Cable tuner:
- Tuner type: DVB-C
- Input connector: IEC type female connector
- Frequency range: 47-862 MHz
- Signal level: -20dBmV - + 20dBmV
- Bandwidth: 8 MHz
- Demodulation: 16QAM, 32QAM, 64QAM, 128QAM, 256QAM
- Input symbolization coefficient: 1.5 - 7Ms / s
A / V MPEG TS Decoding:
- Transport stream: MPEG-2, H.265
- Input rate: max. 120Mbps
- Aspect ratio: 4: 3, 16: 9
- Video decoding: MPEG-2, MP @ ML, MPEG-4 part10 / H.264, H.265
- Audio decoding: MPEG-1 layer I / II, MPEG2 layer II, Dolby Digital, AAC
- Audio mode: Left, Right, Stereo, Mono
- Sampling rate: 32, 44.1, 48KHz * A / V and data input / output:
- Video input: BNC type, analog video input
- USB: high-speed USB 2.0 connection (type A)
- HD OUT: HDMI version 1.3, type A - Ethernet: RJ45 10 / 100M

System resources:
- Main processor: 800 MHz based processor
- Flash memory: 64 Mbits
- DDR RAM memory: 2048 Mbits
Power Supply:
- Input voltage: AC 100-240V 50 / 60Hz
- Output voltage: DC 12V 4.5A max
- Power consumption: max. 48 W - Battery: 7.4V 6.3Ah
- Battery charging time: 3.5 hours
- Battery discharge time: up to 6-7 hours